Art > Heaven on Earth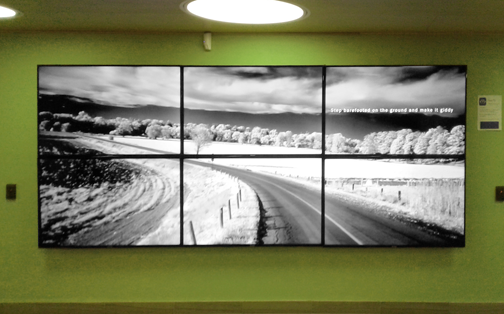 Heaven on Earth is a looping, multi-screen ambient video projection for installation venues using either multi-projector (multi-surface wide panorama) or multi-tile (segmented) display. Read the white paper.
This ambient media artwork consists of a projection of slowly rotating landscape panoramas that have been recorded and produced in black and white digital infrared video, overlaid with translated quatrains from the twelfth century Sufi poet and mystic Rumi, and an ambient background soundtrack. It is a meditation on our connections to each other, and to nature, in all their beauty and fragility.
The landscape recordings initially made within and nearby Waterloo Region aim to evoke sensations of eerily-entrancing otherworldliness. The glowing white vegetation created by the infrared's 'chlorophyll effect' contrasts with dark waters and background skies to create a visual tableau that is all at once familiar, while also appearing strange and dream-like. Overlapping the striking infrared landscape imagery are poems and excerpts of Rumi's translated work that celebrate mystical love, and become tributes to the divine as manifest in nature and our surrounding physical environment. The background music; a blend of ambient textures from Canadian composer and musician Lee Rosevere, along with the video's field recorded sound, serve to both complement and contrast with the visual and textual imagery.
The projected artwork represents a revealing of hidden beauty, not so much by overt placement or arrangement of objects within the frame, but via both science, through making the infrared spectrum visible; and art, through the poetry and the ambient and field-recorded soundscapes. Human-defining analytical and creative traits afforded by both science and art here find significant application in eloquently illustrating our intrinsic spiritual bonds with each other and with the environment.
Short sample from the Heaven on Earth ambient video installation footage